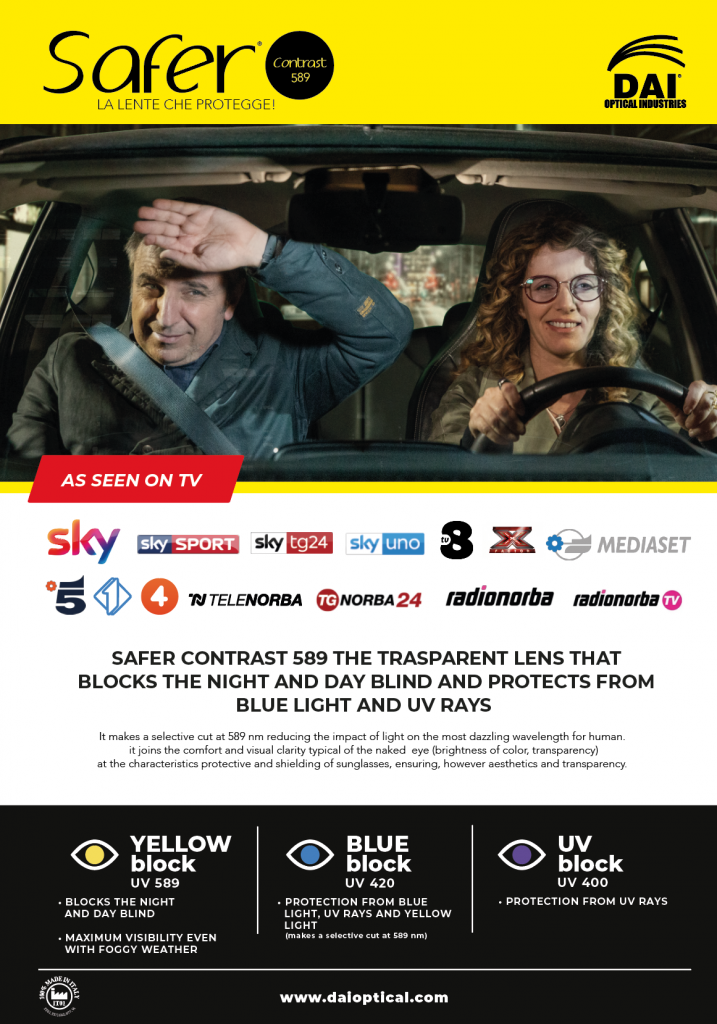 SAFER CONTRAST 589, THE TRASPARENT LENS THAT BLOCKS THE NIGHT AND DAY BLIND AND PROTECTS LIKE A SUNGLASSES.
SAFER CONTRAST 589 has been designed to block the night and day blind (day blind: in equal measure obtained with normal sunglasses).
The lens has a double function because it protects our eyes from the visible high-energy blue light (HEV) with a shield at 420nm and makes a selective cut at 589 nm reducing the impact of light on the most dazzling wavelength for human.
Safer contrast reduces the light at 589 nm and provides a clear vision improving the image's contrast at any time of the day (night and day blind).
It is made using a special blend based on fusion of neodymium ions (neodymium ion melting for technology) at the organic material of plastic lenses, in order to increase the visual contrast and eliminate the effect blinding of dazzle.
Safer contrast 589 is completely transparent, with a very light and almost imperceptible nuance color sky, it joins the comfort and visual clarity typical of the naked eye (brightness of color, transparency) at the characteristics protective and shielding of sunglasses, ensuring, however aesthetics and transparency.
"Ai sensi delle Linee guida del Ministero della Salute del 28/03/2013, relative alla pubblicità sanitaria concernente i dispositivi medici si avvisa l'utente che le informazioni ivi contenute sono esclusivamente rivolte agli operatori professionali."